Deck Builder
The Deck Builder can be found under the Armory tab.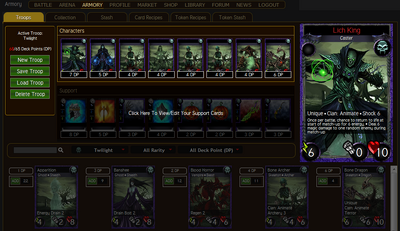 Rules
BattleCraft deck building rules:
A battle troop consist of 8 character cards and 8 support cards.
4 of a Kind - You can have a maximum of 4 of the same character cards.
Unique Keyword - Decks cannot contain duplicate unique cards.
Legend Keyword - Each deck is restricted to 1 Legend card per deck.
Only the tournament decks adhere to a Deck Point (DP) restriction (different for each tournament type). The other PVP and PVE features allow the players to craft their decks without a DP restriction.

Deck Archetypes

There are several deck archetypes that have emerged to be popular and quite effective in its design.
Archery/Shock decks - utilizing effective cards with Archery and Shock for an Annihilation victory
Ghost deck - utilizing cards with debilitating effects like Cripple and Terror for an Annihilation victory
Archery/Animate decks - more attrition based by utilizing the Animate and Necros abilities
Siege/Demoralize decks - utilizing effective cards to use direct morale damage for a Morale victory
Mesmer decks - utilizing the Mesmer ability to manipulate energy upkeep for a Morale victory
Theme decks - utilizing similar type like Knights, Imps or Orcs cards for a synergized approach

These are just a few of the archetypes of decks available in BC. Lots of other combinations and variety provide players with the opportunity to be creative and craft even more devious strategies.